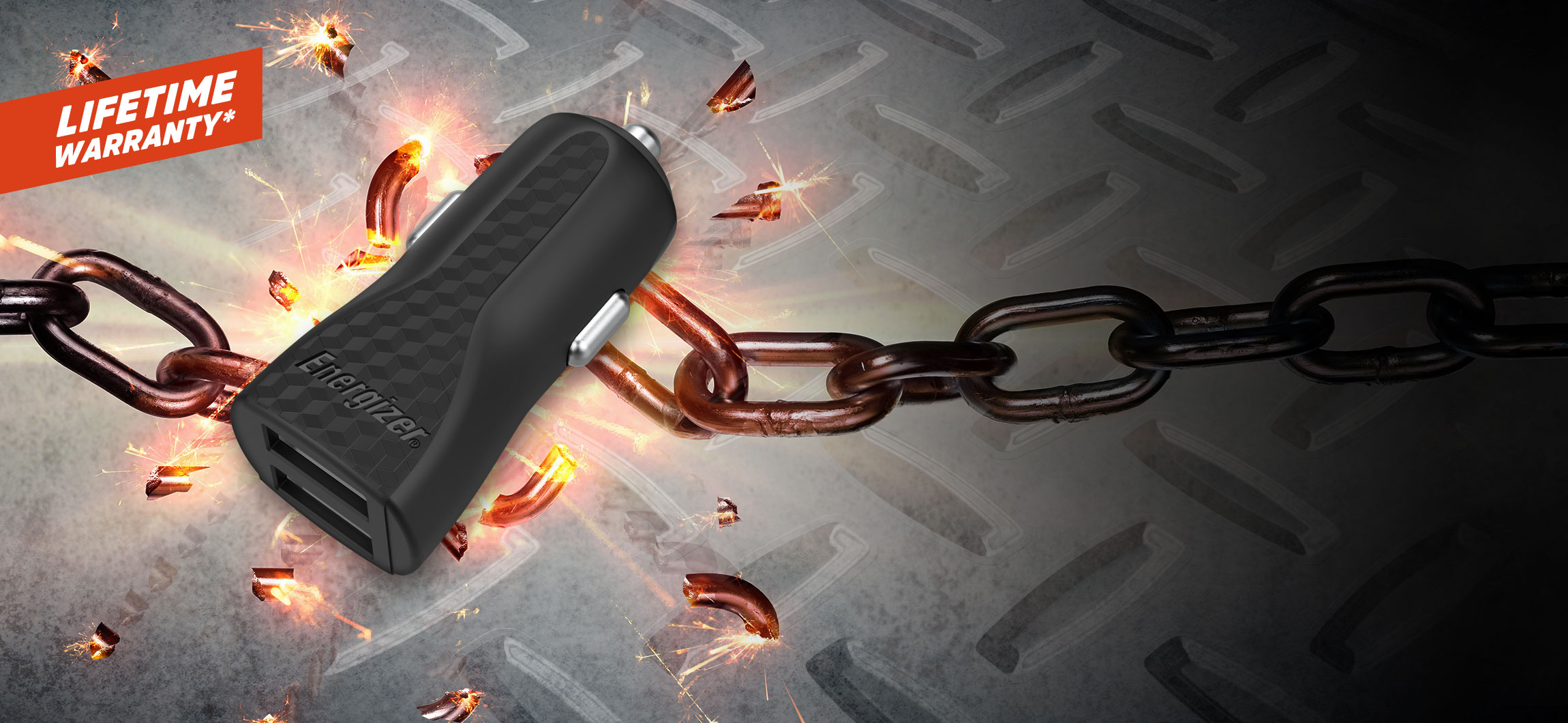 Lifetime Warranty
Car chargers you can rely on
The Energizer® Lifetime Warranty car chargers are a subtle mix of performance and resistance. Available in various power options, they will never fail to recharge your devices on the go thanks to highly resistant materials and superior engineering.
Lifetime Warranty


Shockproof


Tough materials


Modern 3D cube
effect design
Fast charge and sync


Intelligent dispatch of the
output between 2 USB ports

3 types of
cable connectors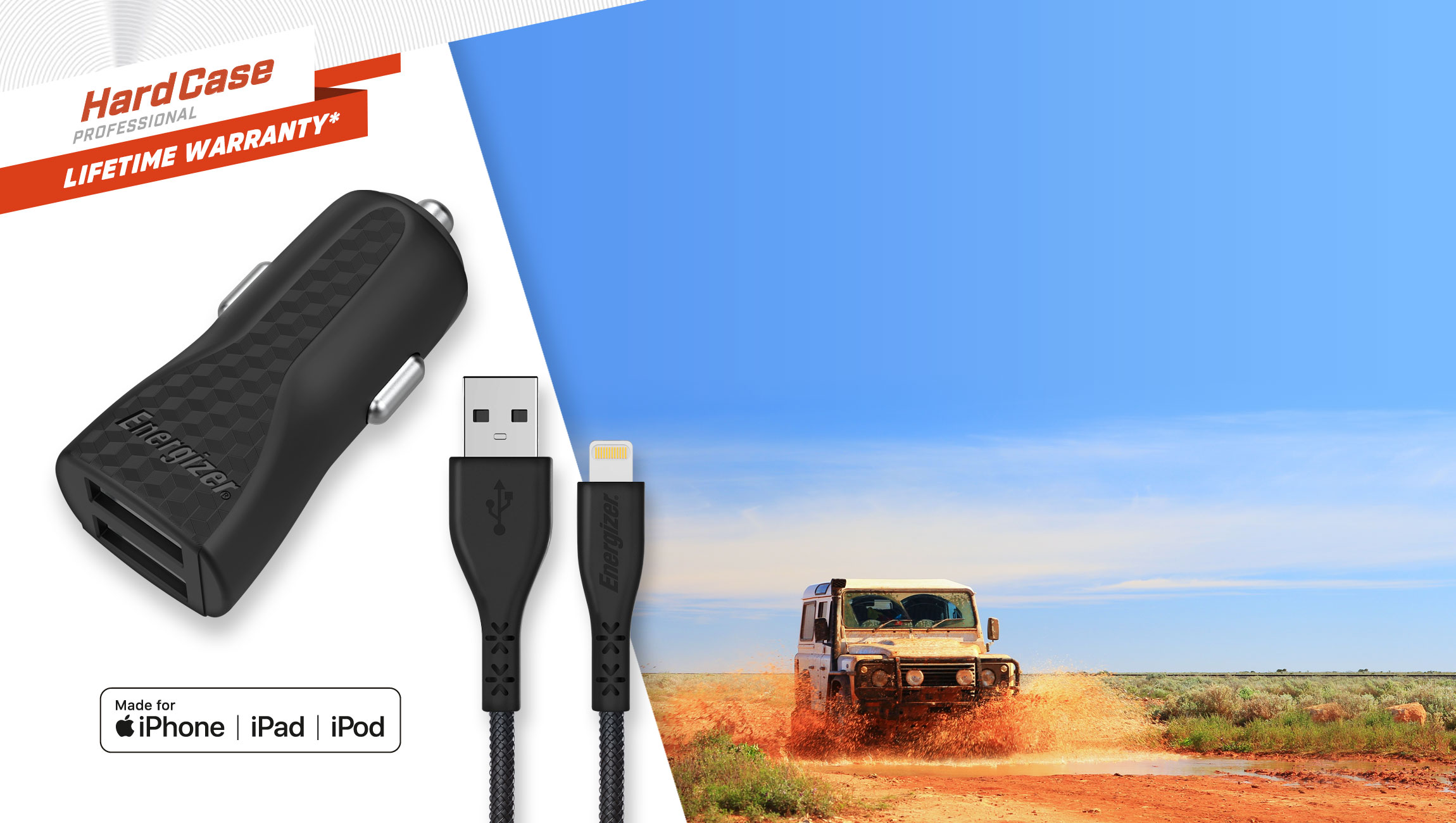 2-Port car charger 17W
+ Lightning cable
No matter where your next adventure takes you, this car charger will always be with you on the road to ensure your devices are fully charged. With fast charging capabilities up to 17W, the Lifetime Warranty car charger is engineered for charging your smartphones and tablets safely at high speed. The 2 ports featuring the Smart IC technology allow fuelling up two devices simultaneously with just the right amount of power needed.
This charger is made from premium polycarbonate and fiberglass, both highly resilient materials to ensure maximum durability and drop resistance up to 2m. It comes with a matching Lifetime Warranty cable, built to withstand a tension of 50kg and thousands of twists.
Output power up to

17W / 3.4A

USB ports

x 2

Auto-detection

SMART IC

Colour

Black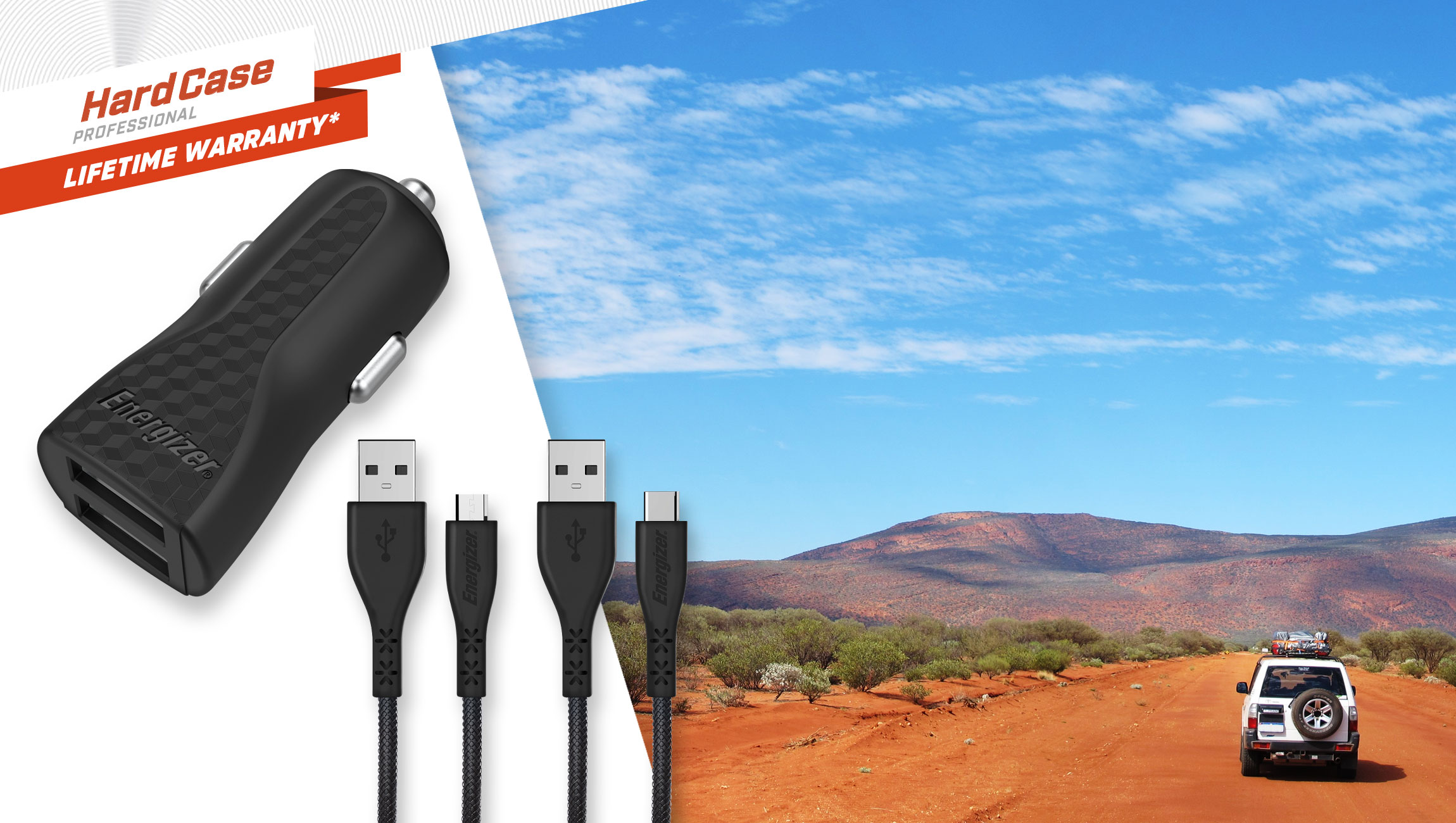 2-Port car charger 12W
+ Micro-USB and USB-C cables
Keep all your passengers happy with this two-port car charger. Engineered to quickly recharge your phones and tablets, it comes with two reinforced Lifetime Warranty cables for Micro-USB and USB-C compatible devices.
It's made from superior quality materials to keep up with your energetic lifestyle and ensure maximum durability. Thanks to the fiberglass and polycarbonate materials, it resists being dropped from up to 2m and can be plugged in and plugged out over 30,000 times.
It boasts a beautiful 3D cube effect design to bring a modern touch to your car interior.
Output power up to

12W / 2.4A

USB ports

x 2

Auto-detection

SMART IC

Colour

Black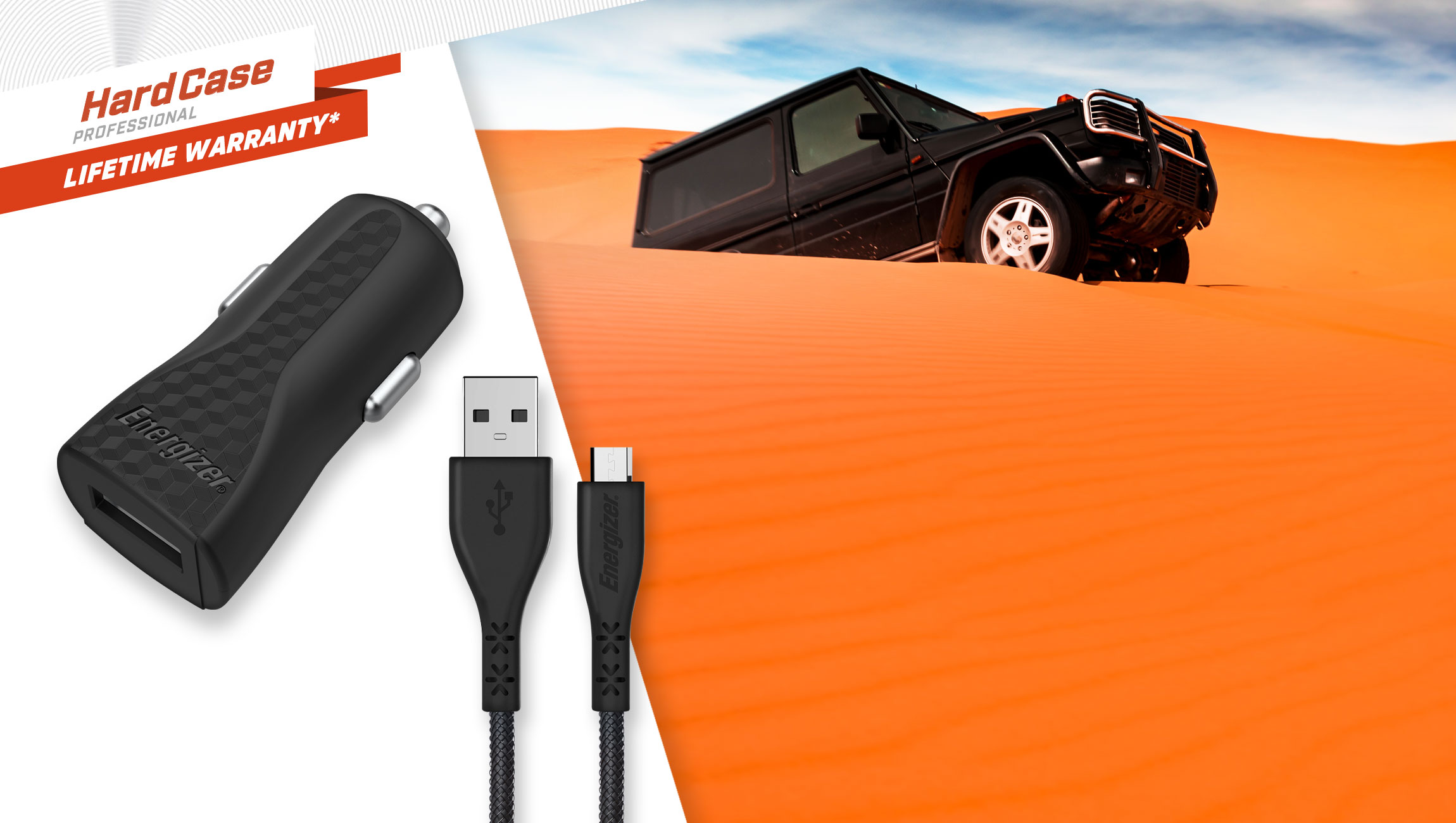 Car charger 5W
+ Micro-USB cable
The Lifetime Warranty 1A car charger is a must-have that ensures your devices are always ready to go. Made from robust materials, the charger and the micro-USB cable sport a sleek black design. Small and compact, yet highly resistant, they're road trip buddies you can rely on even in the most extreme environments.
The included cable allows high speed data transfer and can withstand up to 50kg tension and thousands of twists.
Output power up to

5W / 1A

USB port

x 1

Colour

Black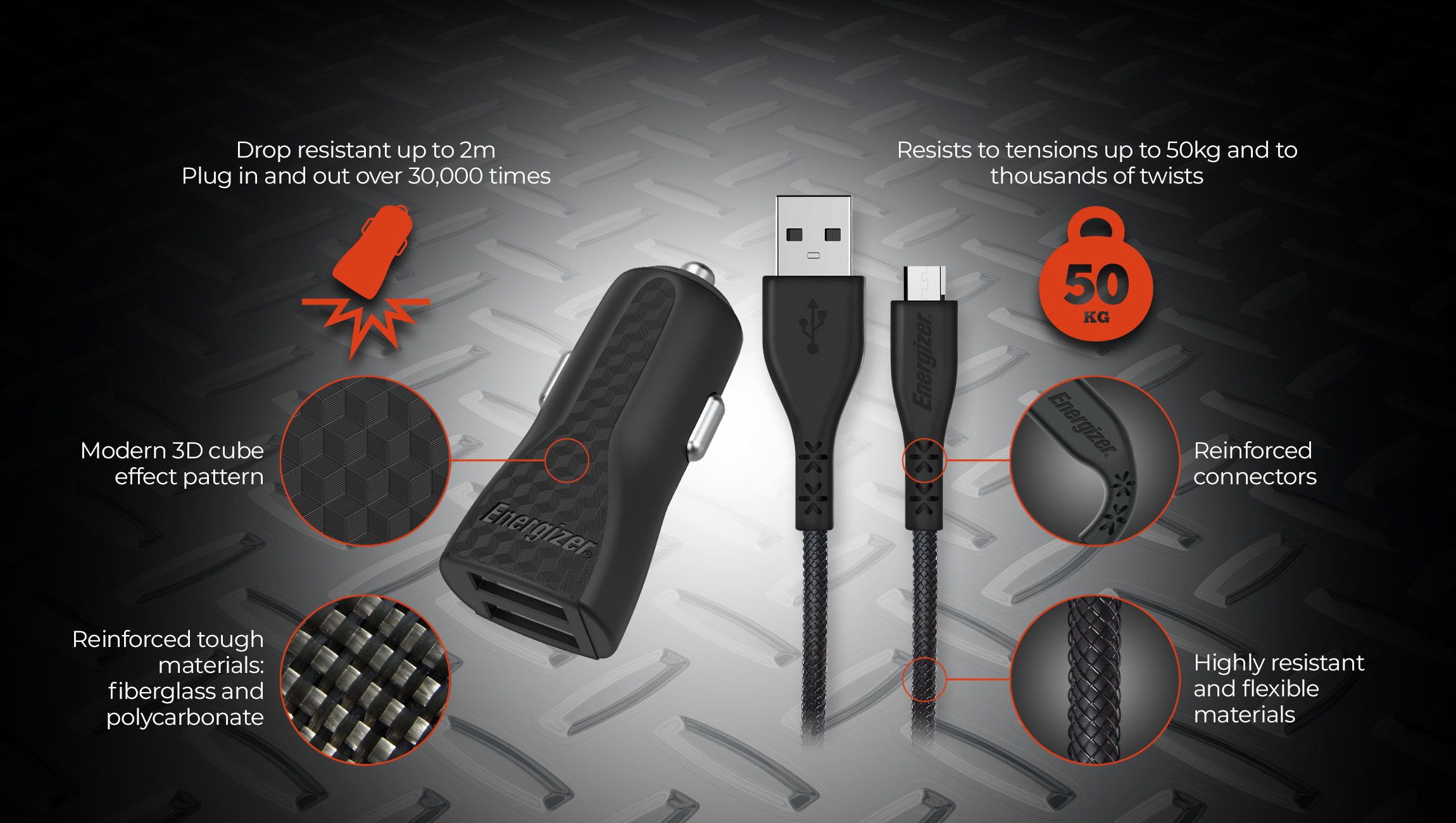 Engineered for ultimate durability