H620S is always the one. You have to taste this endurance.
The main characteristics of H620S are its toughness and resistance. This phone has excellent resistance to shock, splash, dust, and other external attacks. It is rated IP69 while being shock resistant, so it adapts to all environments: worksites, all businesses in contact with water and sand. Ability is our inspiration. This device can go up to 1 meter 20 for 30 minutes underwater and withstand falls of more than one meter. An IP69 certified device is also generally hermetically sealed. It is made of solid industrial rubber.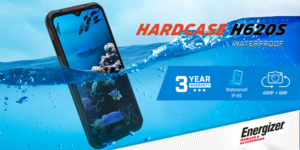 The H620S has several rigid layers and a liner for exceptional shock absorption, both electrostatic and physical. With its modern design, it incorporates the latest technologies to ensure complete protection of the device. This device is the assurance of having a phone able to follow you everywhere, in all circumstances, adapting to the most severe conditions while bringing you the best of 4G.
Absolut perseverance, the H620S is supplied with a flashlight, a radio, a GPS, and a fingerprint detector. It is composed of a 5000 mAh battery, and it offers you up to 9 hours of talk time and 125 hours of standby.
All Energizer® phones are equipped with powerful batteries to ensure you get maximum use without recharging. It has two cameras - a 48MP primary camera and an 8MP secondary camera, to capture photos even in extreme conditions. The 6.2-inch widescreen display features HD + definition, large enough to immerse you in your favorite videos and games like never before. The Hard Case H620S can support two SIM cards and one SD card. Working with Android 10, this smartphone has an Octo-Core 2.0 processor for faster execution and offers 4 GB of RAM and 64 GB of ROM expandable by micro SD card up to 128 GB extra.
Step into the light with the Hard Case range with Energizer.